Japanese Society of
Soil Science and Plant Nutrition
Soil Science and Plant Nutrition
It is published 6 times a year. To purchase, additional cost is incurred.
You can view issued research papers since 2005.
Journal website
Instruction for authors
Online submission page

Japanese Journal of Soil Science and Plant Nutrition
(Nihon Dojo Hiryo Gaku Zasshi - in Japanese)
It is published 6 times a year, and distributed to members.
※Full text appears in J-Stage starting from the 1st issue in 1927 (Journal name was Soil Fertilizer). Please view the link for further information (
external link
).
→
Explanation in Japanese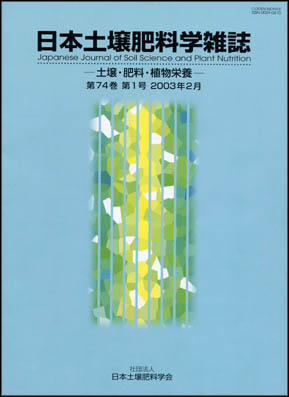 Other Japanese publications
Abstracts from annual meetings of Japanese Society of Soil Science and Plant Nutrition(Japanese)
Newly published books(Japanese)
Conference symposiums/ series edited by the society(Japanese)
---